Many groups find this to be an unparalleled experience for their class, school, or community group. Deer Hill uses thrilling wilderness experiences to keep participants engaged, and includes time for reflection at the end of each day. Our cross-cultural service projects expose participants to the unique cultures and lifestyles of the Navajo, Hopi and Zuni in a collaborative exchange. Deer Hill's approach to inspiring personal growth supports group experiences by encouraging each member to bring her or his best to the surface.
For more information on (new!) custom group and family programming opportunities for late summer and fall, please click below to fill out our interest form.
Create Your Expedition with Deer Hill
Deer Hill regularly designs unique expeditions for groups of all sizes. Most of these programs contain both wilderness adventure and cross-cultural service, but it is not required. While most of our custom programs are designed with schools or teachers for their classes, we also serve community organizations, businesses, and families. You provide the group, we guide the experience. Certain activities are dependent on the season, but Deer Hill operates year-round. Inquire online to find out if Deer Hill is the right outfitter for your group's expedition.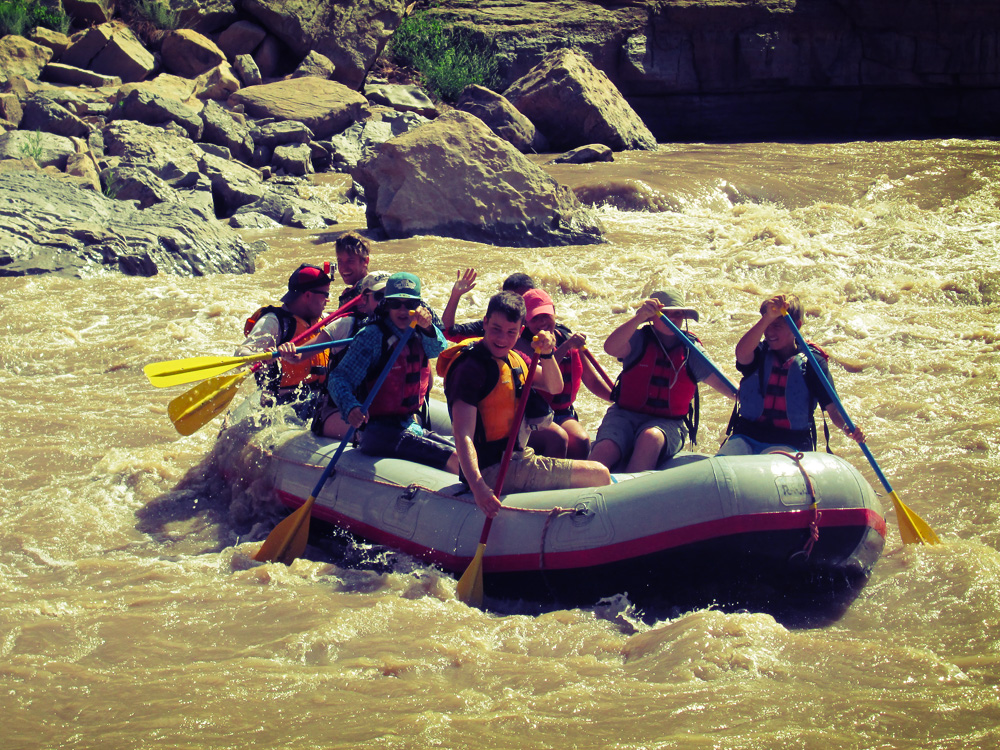 Guided Wilderness Adventure
Deer Hill can design a guided wilderness adventure in the southwest for your group, regardless of your group's skill level or familiarity with the backcountry. With 30 years of experience leading young people through the rivers, mountains, and canyons of Colorado and Utah, Deer Hill staff understand how to design expeditions that balance excitement, safety, challenge, and education. Most often, groups decide on a river expedition, but there are many options from which to choose. Deer Hill staff will help you design a program that fits your group's goals and needs. Program length varies from group to group based on goals, scheduling, and budget. Your group could spend four days floating the Upper San Juan River, or eight days through Desolation and Grey Canyons on the Green River with a layover day of rock climbing in the middle. Your group could climb Centennial Peak on an overnight in the La Plata Mountains, or spend a week backpacking the Weminuche Wilderness.
Cross-Cultural Service Projects
Service projects with Deer Hill put your group shoulder to shoulder with Native American families in the Navajo Nation, or in Zuni or Hopi pueblos. The host families that work with Deer Hill, some of whom have been host families with us for decades, design the projects so that they are meaningful to them and to participants. In addition to the reward of service work, host families make the time to share cultural arts, stories and traditions with participants. Service projects can run from three to seven days, and can include a wide variety of activities such as building bread ovens for families in Hopi Pueblo, fixing the roof of a traditional Navajo hogan, tending sheep and mending fences on a multi-generational family farm, or whitewashing the plaza buildings in the oldest continually inhabited town in the United States.
Basecamp in Mancos, CO
Deer Hill is situated on 130 acres in Mancos, CO among the pinion-juniper forests that roll from the foothills of the San Juan Mountains to the desert of the Colorado Plateau. Basecamp is available in addition to a group's time in the field, or as a retreat facility for up to 150 people, complete with a meeting hall, dining and lodging.
Whether your group embarks on an expedition or solely makes use of the facilities, dining and lodging, Deer Hill's Basecamp is a place that's easy to fall in love with. Your group can stay in one of our comfortable cabins, clean up in our brand new showerhouse, and enjoy healthy and hearty home-cooked meals. During the warmest months, there's even a pond for swimming. Many groups choose to start, finish, or bookend their expedition with a day at Basecamp, while others find all they need onsite. Either way, we sure appreciate the opportunity to show you some Deer Hill hospitality.
Through Deer Hill and its Staff's commitment and capacity to fulfill its mission for our 8th grade class, the words the students spoke at our closing Circle made clear the experience met my wildest hopes for them. Their world views changed dramatically. They expressed whole new levels of gratitude for their privileged lives. They saw first-hand how Navajo people live without running water in the wide-open desert. They were moved numerous times by the wisdom of a medicine man who hosted us on his land. Under no circumstances but living under the starts in the vast dry landscape and learning from real people, could we have taken away these penetrating life lessons.

Amber Fitts, Grades Teacher, Camellia Waldorf School
Our trip with Deer Hill so tactfully facilitated by our guides, brought us to a meaningful conversation with the forces of mother nature and, as importantly, a profound encounter with ourselves. For that we are the better.

Rev Bowen, Pedagogical Development Director/Teacher, Live Oak Waldorf
The Deer Hill experience is unlike any I've ever had. The challenge and adventure met my students exactly where they needed it. The cultural experience is so unique and life-changing. I would recommend Deer Hill to any group!

Kelly Horn, Grades Teacher, Olympia Waldorf
Deer HIll organized and ran an appropriately challenging program for this 8th grade class. The instructors demonstrated enthusiasm, a friendly demeanor, positivity, and adaptability to meet the specific personality of this group.

Elizabeth Tarsio, Grades Teacher, Sandpoint Waldorf
My hope was or our class to have a beautiful trip that we would remember for years to come. I was also hoping it would challenged each of us in new ways and provide strength of character and bonding experiences. All of that happened on our trip.

Terri Power, Grades Teacher, Sanderling Waldorf
Service at Deer Hill
Most of Deer Hill's service projects get you working alongside Hopi, Navajo and Zuni families on projects that they have proposed. Oftentimes, host families will share cultural knowledge, stories, and arts with participants. Other service projects are conservation oriented, and arranged with the US Forest Service or Bureau of Land Management. Service projects in summer expeditions will earn you between 20 and 56 service credit hours.
Wilderness Adventure
Deer Hill's programs offer young people a chance to connect with nature in some of the world's most remarkable landscapes. They also push individuals to overcome challenges and learn new skills to stay safe when enjoying the backcountry. Deer Hill's wilderness adventures typically include a combination of white water rafting and canoeing, canyoneering, rock climbing, mountain biking, hiking and backpacking.
About Deer Hill
Deer Hill Expeditions was founded in 1984 by Doug and Beverly Capelin, who still own and operate the Mancos, Colorado-based company. Since 2005 Deer Hill has designed custom programs for school and community groups to provide fun, meaningful, and memorable culminating experiences, retreats, and educational expeditions. Deer Hill is accredited by the Association of Experiential Education, and maintains an impeccable safety record.