Deer Hill's Basecamp is located on 130 acres of meadowland and pinion-juniper forest at the base of Menefee Mountain in the Mancos River Valley. Located 30 miles west of Durango, CO, and six miles from Mesa Verde National Park, the Mancos Valley has a long tradition of agriculture kept alive today in multigenerational ranches and small organic farms. Basecamp serves as a place to prepare for your expedition, to prepare for your return home after an expedition, or to conduct your retreat.
Accommodations and Resources
While it began as a place for groups to prepare for their expeditions, over the years Basecamp has grown into the perfect place to hold your company retreat, family reunion, educational workshop, or other event. You can stay in one of Deer Hill's rustic cabins, or set up tents in the meadow. You can prepare your own food in the kitchen, or have your meals prepared by Deer Hill staff who are ready to accommodate a variety of nutritional and dietary needs, and always source the best foods. The House, where the kitchen is located, is also a great place to relax and read a book or play a game. There are dining tables in the House, and picnic tables just outside its doors. When it's time to get down to business, the strawbale-constructed Meeting Place, with its many south-facing windows, wood floors, and custom woodwork provides an inspiring venue for meetings, presentations or other events. Additionally, there is a great palapa on which to relax in the shade by the pond, and hiking opportunities right from the property. For groups that would like to incorporate adventure into their retreat, Deer Hill is a fully equipped outfitter and can guide your group on local rivers, in the San Juan Mountains, and the canyons of southeast Utah.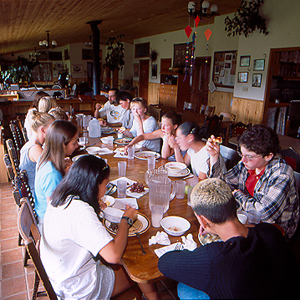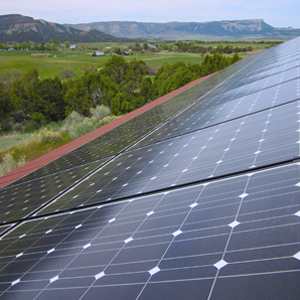 Sustainability
Environmental sustainability is a highly held value at Deer Hill, and is considered at each decision point. Vegetables are grown organically at Basecamp to supplement the meals we serve, and food waste is composted and returned to that garden. The central buildings were constructed in a passive solar design, and all of Basecamp is completely powered by the solar panels installed on the roof of the Meeting Place and Deer Hill Store. Additionally, being situated right where we lead our expeditions, we keep our fossil fuel consumption down, and your drive times to a minimum. We minimize our paper waste in the office by reusing as much as possible, and for 2015, we have decided not to print a catalog at all.
In community development terms, sustainability also includes economic and social factors. In addition to the ways that Deer Hill approaches environmental sustainability, it also makes a significant contribution to the local economy, and the influx of Field Staff from all over the country adds social value to the Mancos Valley by introducing a diversity of experiences and ideas to the community.
Deer Hill has been a major part of my life, even though it has only been two summers. I always remember the leaders and the spectacular views in the mountains. I always cherish the memories made and the life lessons learned. At Deer Hill I have matured far beyond what I was when I first showed up.

Alex, participant