Deer Hill Foundation (DHF) was established to offer the unique experience of wilderness and service expeditions with Deer Hill to those who would otherwise be unable to afford it. Most contributions come from individuals and families who have been personally touched by the rewards of a Deer Hill program. Several community organizations support DHF, as well. Since its inception in 1998, DHF has sponsored over 1,500 scholarships. Please consider making a donation that fits with your budget.
If you are interested in applying for a scholarship to attend a summer expedition, complete the online screening form on the Scholarship Information page to determine eligibility.
How Your Contribution Helps
Contributions support Deer Hill's mission in three important ways: 1) They allow individual youth from around the country to participate in summer expeditions with Deer Hill, 2) They support cross-cultural service projects with host families in the Navajo Nation, and Zuni and Hopi pueblos, and 3) They assist with training and professional development for Deer Hill staff.
Scholarships
In an excerpt from a letter by Rahwa, a scholarship recipient, we see the impact her Deer Hill experience had on her belief in herself as a leader, and her understanding of community: "While at Hopi, we found out about Wilbur, an old man who's wife had passed away a few years ago and we were told he is very lonely. We decided to go eat our meals with him and talk to him whenever we can. When I got home at the end of the trip I had a letter waiting for me from Rhonda. It was about how she and her people in Arizona have been doing, asking me about my family. Finally she told me what Wilbur had said about our Deer Hill group. She quoted him, and this I will never forget. He said, "They have made my life longer and richer, and that is something money can't buy." I never realized before that I can make a huge difference in someone's life by doing such a simple thing."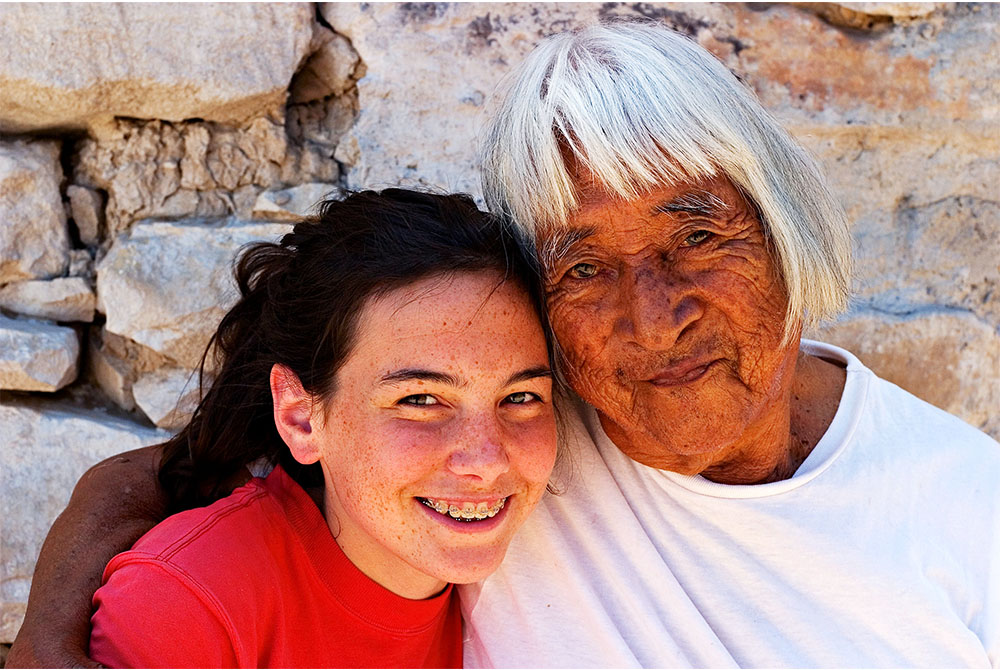 Cross-Cultural Service Projects
Deer Hill's service projects with Native American families in the Navajo Nation, Zuni Pueblo and Hopi Pueblo make meaningful contributions to those communities, and foster connection across cultural boundaries. The host families that work with Deer Hill, some of whom have been host families with us for decades, design the projects not only to be important to their community, but also to create opportunities to share cultural arts, stories and traditions with participants. Service projects typically run from three to seven days, and can include a wide variety of activities such as building bread ovens for families in Hopi Pueblo, fixing the roof of a traditional Navajo hogan, tending sheep and mending fences on a multi-generational family farm, or whitewashing the plaza buildings in the oldest continually inhabited town in the United States.
Field Educator Training
Field educators are the heart and soul of Deer Hill, facilitating experiences that transform a young person's worldview, and inspire a sense of empowerment, leadership, and wonder. Deer Hill Foundation supports the growth and professional development of committed field staff by providing training opportunities that will further their work guiding Deer Hill participants to "find themselves in the middle of nowhere."
I want to express my deepest gratitude to you for providing Trevor with the scholarship that allowed him to attend Deer Hill this summer. Trev came home from his expedition with confidence and decision-making skills that weren't there when he left. He is so ready for a more challenging expedition, and is already making plans to attend the Wilderness Leadership expedition next year. See you next year!

Debbie, parent