In the August 2015 Issue of The Petroglyph…
And the Cool Mornings Come Back: Bringing Your Experience Home
In Photos: Some Summer Highlights
Introducing… Deer Hill's first ever Ambassador Coordinator, Emily Capelin Palmer
Share your stories, please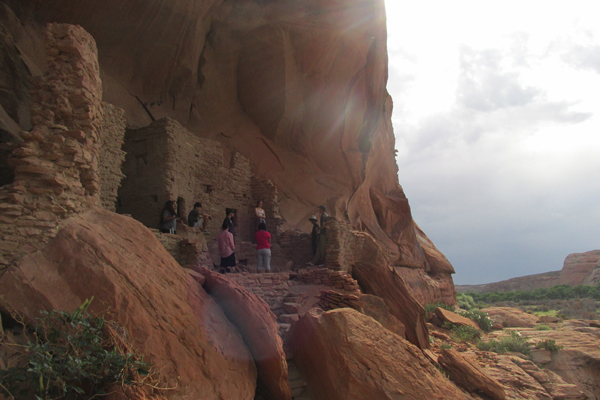 Ancient Pathways 2015, exploring the River House Ruin on their expedition of the San Juan River.
Wildworks 2015 helping out in the Zuni Historical Museum community garden.
Wilderness Leadership 2015 tackling one of many talus summits in the Weminuche Wilderness.
And the Cool Mornings Come Back
Gabriel Bernier, Outreach Manager
You don't have to be at treeline now to wake up to a cool morning; we find ourselves on the descending arc of summer. All of this season's summer expeditions at Deer Hill have begun, many have ended, only a few left to return. By the time you read this, even they will have come back to Basecamp, cleaned up their gear, and bid farewell over hamburgers in the fading sunlight of their final night together as a group. And then it's the return home: as you wake in your comfortable bed, you replay moments from the field; faces fleeting across your mind, you recall the jokes and games from the trail, and hold, if only for a second, the ephemeral memories of the challenges you met. So you face a new challenge now: to weave the beauty of the alpine tundra in wildflower season into the rank humidity of the locker room, the serenity of sunset on Utah's redrock sandstone into the bustle between classes, the warmth and tenderness of Circle with your service host into the cold anonymity of city streets.
The friends who understand this—the friends with whom you discovered these treasures—are scattered across the country and the globe. Your friends in the neighborhood and at school are curious about your newfound tendency to gaze at the stars, or compulsively refill your water bottle. It's work to bridge this gap. It takes effort to keep alive your experience from the summer, and at the same time, reassure your friends that you're still every bit YOU.
So you recall the alpine start on the morning you summited Windom Peak, the tightening in your forearms as you gripped the paddle in Government Rapid, the anxious endless moment before speaking in Circle. You recall the thrill of the horizon rising above the rocky mountaintop, jagged, sawtoothed-peaks in every direction; the joy as the splashing wave soaks your skin; the unnerving flight of your stomach as you sit vulnerable with your peers, and the flow of strength that followed each of these moments. That strength, the confidence that comes with accomplishment, stays with you, maybe even more sharply than the faces of your expedition leaders, or the scent-memory of the subalpine forest. It becomes part of the locker room, part of your passage between classes, part of those city streets, a part of you.
Emily Capelin Palmer is Deer Hill's First Ambassador Coordinator
Gabriel Bernier, Outreach Manager
"I hope that the Ambassador Program will connect our alum and their families to each other by giving them all a common goal for the future, in addition to having a common experience in their past."
As the eldest daughter of Deer Hill founders, Doug and Beverly Capelin, Emily literally grew up at Basecamp. She participated in four summer programs and instructed programs for 10 years. In her own words, "I grew up swimming in the pond and watching sunsets on the palapa; I went to service with my groups, and I led trips through the canyons and mountains here. It's only fitting I should keep on with Deer Hill as an adult."
As Ambassador Coordinator, Emily will manage the launch of a concerted effort to support and empower individuals and families to share their experiences of Deer Hill with their communities. "Basecamp is close to where we hold our programs, but typically far from the homes of our alumni. That's what makes it exciting to come to Deer Hill," said Emily's father, "but it also makes it difficult to manage outreach in an efficient way. Friends of Deer Hill have been helping us for years; we want to support and acknowledge those that help spread the word."
Suzanne Strazza, Admissions Manager, added, "So many of the parents I talk to mention that they heard about Deer Hill from their neighbor, their coworker, or someone they sat next to on a plane." Over 50% of all Deer Hill summer expedition applicants indicate a personal reference as part of what brought them to apply. The number is even higher for Custom Group Programs–where as many as 80% of inquiries are sourced in word-of-mouth referrals.
"There's something else, though," says Emily in her characteristically gentle manner, as she weeds the kitchen garden at Basecamp (Emily is also the Head Gardener). "Young people come here, and they leave, but they take a bit of Deer Hill with them. Some 6500 people have done that over the past 30 years–brought a little bit of Deer Hill with them back to California, New York, Paris, or wherever. Deer Hill Alumni are spread all over. I hope that the Ambassador Program will connect our alumni and their families to each other by giving them all a common goal for the future, in addition to having a common experience in their past."
Share your stories!
We are seeking submissions for future issues of the Petroglyph. If you have a story from your adventures with Deer Hill, or something to say about how your expedition has impacted your life, we'd like to hear it. Please send submissions to Gabriel Bernier at gabriel@deerhillexpeditions.com.
Help a Young Person Attend Deer Hill
Consider making a contribution to Deer Hill Foundation.
Contributions to Deer Hill Foundation allow dozens of young people to "find themselves in the middle of nowhere" each year and support relationships with organizations, such as Summer Search and REACH Memphis, that help low-income young people on their way to college. You can make a tax-deductible contribution online, or contact our office to explore other options at 970.533.7492.