Progress your Teen through Deer Hill's Programs: 
A Summer Camp Experience Like No Other
---
Did you know that Deer Hill programs are meant to be a succession in experience, challenge, self-reflection, and personal growth that parallel students as they grow into young adults?  
Much like a summer camp, Deer Hill is a place students return to every summer. With options for all age ranges, Deer Hill hopes to be a cornerstone in your child's life as they learn and grow through middle school and high school.
Here's a summary of our programs by age:
---
So, where do you start? We suggest enrolling your pre-teen in Southwest Discovery, our entry-level offering for 10-12 years olds. It is a perfect starting point: a fun and engaging mix of backcountry and front country adventures.  
We love Southwest Discovery because it helps to promote a foundation for self-discovery. These kids are curious, excited, and are in the perfect age range to be exposed to the wonders of nature. We curate their experience to include community building and time to help them intentionally reflect on themselves and their place in the outdoors.
We keep this program to a two-week experience, including a float trip through Ruby-Horsethief Canyon on the Colorado River, an exploration of Ute Mountain Tribal Park, and hiking in the San Juan Mountains.
Here's more information about Southwest Discovery this year:
It includes a Ute Tribal Park Tour, River Rafting, and a Mountain Basecamp at the

High Camp Hut

.

The course is 12 days, June 30 – July 11, 2022.

The cost is $2880.
---
Teenagers ages 13 – 14 are ready for a more robust and immersive backcountry experience.  River and Mountain Adventure is Deer Hill's most popular program and incorporates our classic combination of rafting, backpacking, and Native American service-learning*.
While this program begins to expand on essential backcountry skills – like navigation and camp craft – the main focus is on having tons of fun and making new friends while taking part in the adventure of a lifetime!
More information about River and Mountain Adventure in 2022:
Students will raft the San Juan River, experience service-learning on the Navajo Nation, and backpack in the San Juan Mountains.

 There will be three options available for RMA this year. Both will be 19 days long and 28 service hours. 

June 29 – July 16, 2022

July 7 – July 24, 2022

July 11 – July 28, 2022

The cost for this 19-day program is $4350.
---
In the Middle: 3 Program Offerings to Choose From!
After students have participated in their first two programs and are 15 – 17 years old, our program offerings expand to allow students to choose between multiple adventures, each with its unique flavor.
The beauty of these options is that you and your teen can pick the right adventure for you while still having the opportunity to experience a new program each year.
Our subsequent three program offerings are:
---
If your teen loves the mountains, then Heart of the Rockies is the perfect program for them! We love this program because it is a truly immersive backcountry experience and allows students to learn imperative navigational skills while experiencing the peacefulness of the mountains.
Heart of the Rockies includes backpacking in Colorado, mountaineering, and a conservation-focused service project.

It is 21 days long and counts for 12 service hours.

The cost is $5000.
---
Southwest Journey incorporates an epic adventure rafting Desolation-Gray Canyon on the Green River in Utah. Students fly in a chartered plane to the remote river launch and navigate over 60 rapids on this stretch of river. The group will then head to the Hopi Pueblo to live and work in a community with the oldest continually inhabited city in the United States. Finally, they set up a mountain base camp where they go on day hikes and participate in rock climbing.
This program includes multiple peak ascents, rock climbing, hiking, a scenic plane flight, and rafting on the Deso-Gray stretch of the Green River.

 Southwest Journey is a 22-day course with 36 service hours.

The cost is $5875.
---
Canyon Country brings the students deep into the desert while offering three different outdoor experiences. In this program, your teen will raft a new section of the San Juan River, backpack through beautiful canyons, and end their trip working on a service project with one of our host families in the Navajo Nation.
This experience includes rafting, canyon backpacking, and service-learning.

Canyon Country is 21 days and has 32 service hours.

The cost is $5375.
---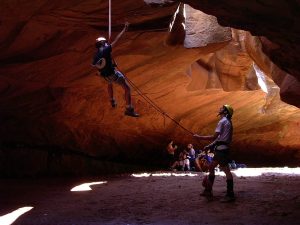 Wilderness Leadership is our capstone program for our oldest Deer Hill participants, 16 – 18 year-olds.
As your student has progressed through our other programs, they have developed crucial outdoor skills, along with growing and changing as young adults. Wilderness Leadership only expands that knowledge, truly teaching students to orienteer and lead groups in the wilderness, developing individual style and self-awareness.
This program includes canyoneering, mountaineering, canyon backpacking and mountain backpacking, and leadership development and service-learning.

This program provides 32 Service Hours and occurs on:

The cost for this 25-day program is $5875.
---
Now that you know you can progress your teen through Deer Hill programs, we hope you will reach out to Lizzie, our admissions specialist, so she can help guide you and answer any questions you may have. You can also fill out this form for more information.