In the September 2016 Issue of The Petroglyph…
It is always a pleasure to host alumni at Basecamp, and this summer we were visited by a handful of members of the Deer Hill Circle. One of those visitors was Deer Hill Alumna, Katie Spegar (Marin Waldorf 8th Grade Class, 2016). Katie brought her family to visit Basecamp and her service hosts' homestead on the Navajo Nation. Best of all, she is willing to share her reflections with us.
The banded canyon walls of the Lower San Juan River, where Katie's class rafted last April.
My Return to Deer Hill and the Navajo Nation
Katie Spegar, Alumna (Marin Waldorf 8th Grade Class, April 2016)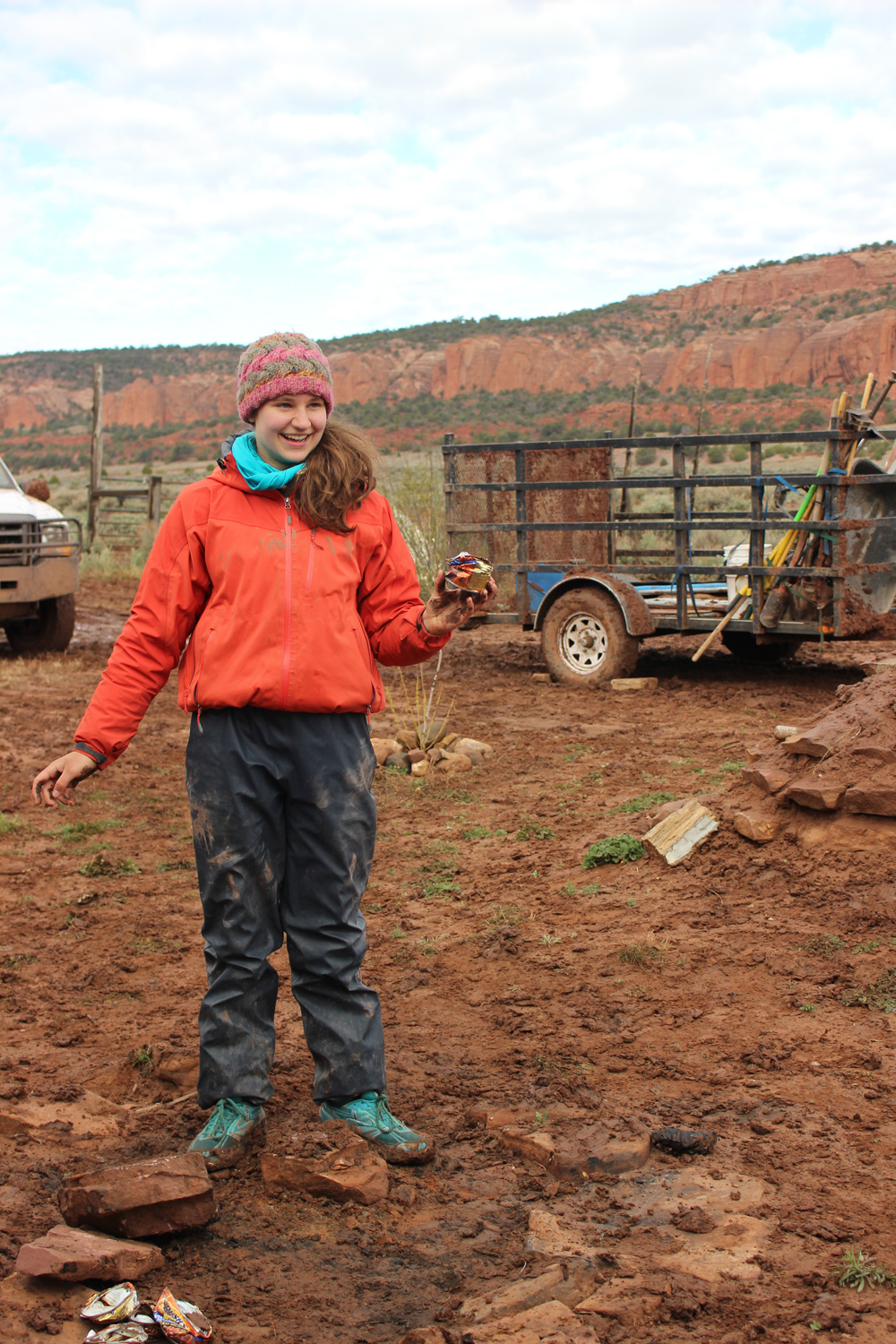 Katie cleaning up the site at the Clarks' homestead in the Navajo Nation.
Do you know that feeling when you get home from a life-changing trip, and you try to share your experience with your family and friends, hoping they can somehow relate? How do you find the right words to describe all that you saw, and did, and felt?
Well, that's how it was for me last spring when my classmates from Marin Waldorf School and I returned from an incredible 10-day Deer Hill field trip through the American Southwest. As we departed Deer Hill's Basecamp for home, waving goodbye as we travelled down the bumpy gravel road, I still remember hearing a little voice inside myself saying this would not be the last time I would be in this beautiful place.
I imagined trying to tell my family about the trip. How could I describe the unique red rock formations we hiked around, and the rushing mud-colored waters of the San Juan River we rafted? How could they imagine this cozy little basecamp, with rustic buildings and delicious home-cooked meals surrounded by the cliffs below Mesa Verde? How to bring to life the ceremonies and warmth of our host family, Gwen and Ferlin Clark, at their Navajo homestead with its craggy red cliffs, fragrant green sage brush, and heavy clay soil that caked our hiking boots? There was no way to describe the tasty fry bread we ate there, after a day of working on their land. I remembered the Clark's enthusiastic, sincere invitation to us all to return for a visit, if we were ever again near their part of the world. All of these wonderful memories and feelings were swirling inside of me.
Then something great, and unexpected, happened. My parents announced that we were going on a road trip in July to explore some of the National Parks and back roads of America. We voted on where we might go on our road trip, so I saw my chance and jumped at the idea of returning to Deer Hill. Happily, everyone agreed to put it on our itinerary.
Rippling sand waves in the "rushing, mud-colored waters" of the San Juan River.
So, why return? I am sure I am not alone in saying that there were things about my experience at Deer Hill that left a big impression. First of all, the instructors from Deer Hill were incredible. They were inspiring, knowledgeable, skilled and prepared in helping us meet the physical and technical challenges we faced. For one thing, last spring was filled with unpredictable and changeable weather— everything from a late, sloshy snowfall and slippery sleet to high winds, pounding rain and booming thunder and lightning. With ease, care and humor our guides helped us meet these physical tests. Secondly, we spent 24 hours a day with our instructors on a 5-day river trip, and a 4-day service project—we got to know each other pretty well. I loved learning that some of them were Waldorf graduates themselves and ski patrollers and paramedics, too. Hearing their stories made me want to be like them, and possibly follow a similar path into outdoor environmental work with students. And one of my favorite memories comes from our time at Basecamp after our expedition and service projects: some of us joined together to jam on piano and the guitar, singing songs from the songbooks in the warm, spacious house where the founders raised their three kids.
When we went back this summer, it was both very familiar and very different. Gone were my classmates and teachers, and most of the wonderful instructors I had grown so fond of. Instead, Deer Hill was at a lull in the summer programs and instead of lots of usual bustling and energy, Basecamp was relaxing and peaceful. Jordan, Deer Hill's Admissions Manager, invited us to poke around and look in on the familiar land and the buildings, and I found the easy energy and friendly staff to be as wonderful as I had remembered them. It turned out that one of the same instructors from my trip, Danielle or "D," as she liked to be called, was guiding one of the summer trips. We had the chance to exchange a hug and some funny stories from our time together and I loved seeing her familiar face. I got the sense that enrolling in a summer program with Deer Hill would give me the opportunity to do more of the amazing things I did with my class: to create more memories, to float different rivers, to try new outdoor adventures, and make great friends.
After Deer Hill, we drove to see the Clarks (our service hosts from my class trip) on their Navajo homestead. They were so happy that we returned and went out of their way to make us comfortable, including a fry bread meal. In fact, Ferlin Clark said during the ten years they have hosted Deer Hill students, I was the first student who took them up on their offer to return. Not only did they welcome us to stay the night and eat with them, but they also invited us to attend a big ceremony in a neighboring Pueblo called Santo Domingo. As their guests, we attended Santo Domingo's traditional harvest festival where we saw hundreds and hundreds of Puebloans dance their "corn harvest dance" in the plaza, and were generously invited to dine at the tables of the Governors of the Pueblo. The food they shared with us was delicious and the red chili sauce was rich and spicy! We were able to experience parts of Puebolan life that most non-Native Americans would never imagine. As we parted ways, we felt so grateful to the Clarks for their hospitality and sharing of Native American customs, both Navajo and Puebloan.
Gwen Clark making frybread with Katie's class.
Ferlin Clark bringing a hammer to some participants.
I hope to return to Deer Hill one summer to join a longer, more challenging outdoor adventure with them. With my love of the outdoors, taking on physical challenges and making music, I feel as though I may have found my new tribe.
Summer Expeditions
2017 Summer Expeditions will be announced in November; stay tuned to learn about Sibling and Alumni Discounts, and to see what we'll be offering.
Custom Group Programs
At the time of this writing, there is still space on the spring calendar for Custom Group Programs, although the most popular times are filling up fast. Contact Gabriel to book a trip for your class, organization or family: gabriel@deerhillexpeditions.com or by phone at 970-533-7492.